Revolutionize Your Protein Analysis with GENZPRO Development Kit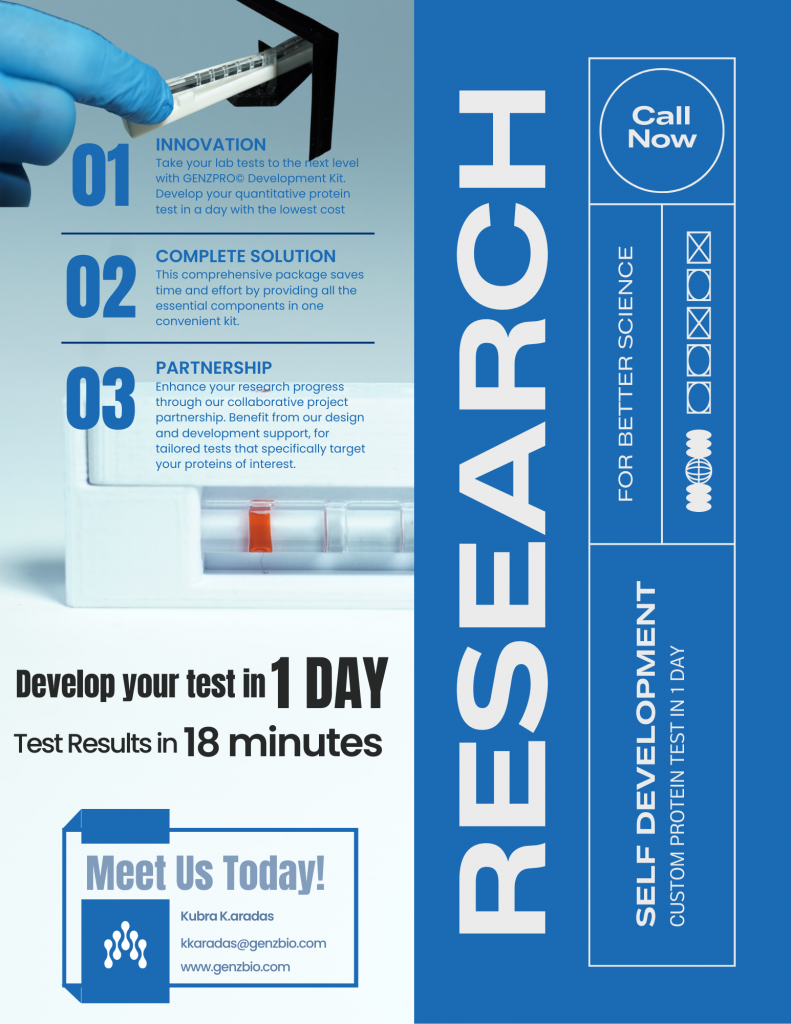 Dear Esteemed Researcher,
In your pursuit of knowledge, we recognize the challenges and aspirations that drive your academic endeavors. Your dedication to unraveling the complexities of protein analysis deserves an innovative solution that aligns seamlessly with your vision. It is with great enthusiasm that we introduce you to the GENZPRO Development Kit – a transformative tool poised to revolutionize your research landscape.
Unveiling a New Frontier in Protein Analysis:
Envision a world where your experiments break free from limitations, where the horizons of protein analysis are expanded beyond traditional confines. The GENZPRO Development Kit is more than just a tool; it is a catalyst for discovery, a portal to a new realm of scientific exploration.
Precision Redefined:
Precision stands as the bedrock of successful research, and the GENZPRO Development Kit sets a new gold standard. With chemically active binding groups and meticulously modified surfaces, rest assured that your experiments will yield results of unparalleled accuracy and reliability. Embark on your scientific journey with confidence, knowing that every insight gained is built upon a foundation of unwavering data integrity.
Customization Tailored to Unique Research Objectives:
In academia, each project is a unique odyssey, and your research merits a bespoke approach. The GENZPRO Development Kit empowers you to design custom protein tests aligned with your objectives. Whether you're probing disease mechanisms, unveiling molecular pathways, or forging pioneering therapies, our kit adapts to your needs, providing insights that truly matter.
Real-World Impact: Case Studies:
Consider a researcher striving to unearth new biomarkers for an enigmatic neurological disorder. Through the GENZPRO Development Kit, they were able to fashion an exceedingly specific and sensitive test, identifying potential markers with unprecedented accuracy. This breakthrough not only propelled their research but also held the potential to revolutionize early detection and diagnosis in the medical field.
Seamless Workflow:
Time is of the essence, and the GENZPRO Development Kit is designed to optimize efficiency. From the initial protein coating to the final analysis, our streamlined workflow ensures your research progresses seamlessly. With comprehensive instructions and a user-friendly manual, you can navigate the process effortlessly, dedicating more time to analyzing results and drawing impactful conclusions.
Affordable Excellence:
In academia, judicious resource allocation is paramount. The GENZPRO Development Kit offers cutting-edge technology without exorbitant costs. We believe that groundbreaking research should be within reach for all, and our kit reflects this commitment to affordability without compromising quality.
Empower Your Research:
Your fervor for research propels innovation, and the GENZPRO Development Kit is your steadfast companion on this remarkable journey. It's time to transcend boundaries, redefine possibilities, and amplify the impact of your work.
Exclusive Invitation:
As a testament to our belief in the potential of your research, we extend an exclusive invitation to you. For a limited time, researchers in academia can avail a special discount on the GENZPRO Development Kit, enabling you to embark on your transformative research journey at a fraction of the cost.
Seize the Opportunity:
Elevate your academic pursuits and revolutionize your approach to protein analysis with the GENZPRO Development Kit. Break free from limitations, unveil novel insights, and propel your research forward in ways you never thought possible.
For more information, case studies, and to secure your exclusive offer, contact us at [Contact Information] or visit our website at [Website URL]. Your research deserves the GENZPRO advantage – let's embark on this journey together.
Empower your research. Redefine the future.
Rapid Results: Achieve a sample-to-result time of around 20 minutes, with self-development taking only 4-8 hours.
</n>
Quantitative Accuracy: Operates at room temperature, providing real-time signal analysis via advanced AI technology.
</n>
High Diagnostic Sensitivity: Boasts the lowest Limit of Detection (L.O.D) for enhanced reliability.
</n>
Multiplex Testing: Conduct multiple tests in a single run, making it suitable for a wide range of applications, including immuno protein assays, immunotherapeutics, vitamins, hormones, antigens, with the capacity for up to 40,000 tests.
</n>
Based on the Proven Principles of the Sandwich Assay.
All you need are your protein pairs of your test
Galeria